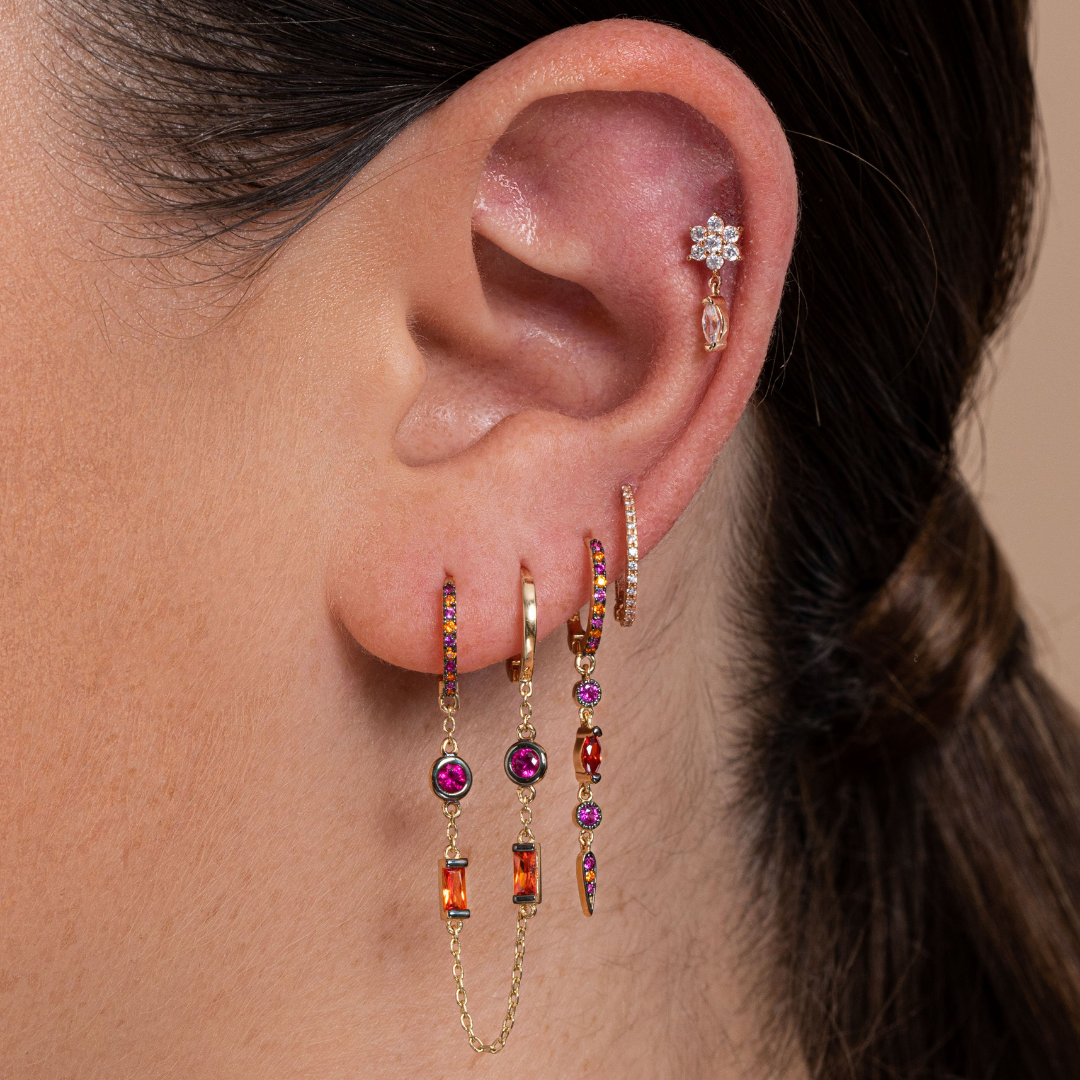 Book for your piercing appointment now

Price of getting the piercing is 110 NIS or 130 NIS dependent on piercing location PLUS THE PRICE OF THE EARRING OF YOUR CHOICE. Our piercing earrings start at 350 NIS and are made from solid gold with zirconia diamond or semi-precious detail. 
Appointment changes or cancellations will be accepted up to 24 hours before the scheduled appointment. Please note a non- refundable deposit of $16 or approximately 50 NIS is required to secure your booking. The amount of course will be deducted from the cost of your piercing on the day.
*Please Note,  Cancellations made within 24hrs will result in the deposit being forfeited by the customer, deposits cannot be put towards future purchases. 
FAQ
 What are our designs made of?
All our designs are handmade in 14ct rose yellow or white gold with zirconia diamond or semi precious detailing.
There are so many designs to choose from. Where do i start?
Our collections are all created to allow you to mix and match with the pieces you already have or with any other styles in our range. We tend to choose the "hero piece" first and build out around that. Our in store stylists can help start you off and create a personalised look for you. We are also available for online styling advice by zoom if you are too far to visit.
When creating an ear stack how do i choose?
We like to break all the old rules about matching your gold and stone colors. Its all about finding the right balance to create a tasteful and well proportioned mix. We happily mix gold colours or stone colors- but not both. Keep the gold color monochrome if you want to add colorful stones, or keep the stone detail clean and simple if you are mixing golds.
How long do I need to wait before I can change my piercing jewelry?
Lobe piercings take around 3-4 months to fully heal and cartilage piercings take around a year to fully heal. We'd recommend to wait throughout the whole healing period before changing your jewelry. This will be discussed more upon your visit!
About us
PERSONAL EXPERIENCE
We see shopping at MYJOOLS as more than just a purchase, it is an experience. We understand each individual style reflects its true beauty when put together with the right combination of proportion, design and an added splash of attitude.
STYLING EXPERIENCE
Contact us to arrange your own personal styling session. Bring along your favorite pieces in your current collection and our team will help you select the key styles you need to add in order to build you a range of looks to suit your personal vibe.
ABOUT US
\We at Myjools focus on giving today's women the confidence to shine, wherever they may be.  Our jewellery collections are beautifully crafted from a combination of 14ct gold and diamonds, semi-precious stones or zirconia.